SEI Testing Standards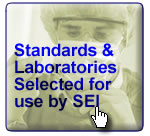 The certification program established by SEI is built on the foundation of performance standards developed by the most notable standards development organizations. The scope of SEI's voluntary certification program is applicable for manufacturers producing product for the US and Canadian markets. Participation in the SEI program is open on a non-discriminatory basis to all manufacturers.
Click the image to the right to download a PDF listing of the Standards and Laboratories selected for use by SEI; continue reading below to learn more about the history and missions of these organizations.
ASTM International (ASTM)
ASTM is one of the largest voluntary standards development organizations in the world. Standards developed at ASTM are the work of over 30,000 ASTM members. These technical experts represent producers, users, consumers, government and academia from over 120 countries. SEI is a subsidiary of ASTM International.
American National Standards Institute (ANSI)
ANSI, formed in 1918, facilitates the development of American National Standards, also known as ANS, by accrediting the procedures of standards developing organizations. ANSI accreditation signifies that the procedures used by standards setting organizations meet the Institute's requirements. The organization also coordinates U.S. standards with international standards so that American products can be used worldwide.
International Safety Equipment Association (ISEA)
The ISEA is a United States trade association for companies that manufacture safety and personal protective equipment. ISEA is credited with publishing the first American National Standard for high-visibility safety apparel. Since its original publication, this standard has undergone several revisions, but is still identified by a ANSI/ISEA prefix.
National Fire Protection Association (NFPA)
This international nonprofit organization was established in 1896 with the well-defined mission to reduce the worldwide burden of fire and other hazards on the quality of life by providing and advocating consensus codes and standards, research, training, and education. NFPA develops, publishes, and disseminates more than 300 consensus codes and standards intended to minimize the possibility and effects of fire and other risks.
National Institute of Justice (NIJ)
NIJ is the research, development, and evaluation agency of the U.S. Department of Justice. NIJ has published standards for both ballistic and stab resistance of personal body armor, and is currently developing a CBRN protective ensemble standard for law enforcement.
National Operating Committee on Standards for Athletic Equipment (NOCSAE)
NOCSAE is a nonprofit corporation that formed in 1970 in response to a need for a performance test standard for football helmets. In 1973, the NOCSAE Football Helmet Standard was developed. The 1974 new helmet models were the first tested to this standard. The baseball batting helmet standard was published in 1981, and the 1983 helmet models were the first tested to this standard. The baseball standard has since been designated as the baseball/softball batting helmet standard. In 1986 a performance test standard was published for lacrosse helmets and face masks, and in 1987, a standard for football face masks was released. In addition to publishing standards for testing baseball, lacrosse and football helmets, NOCSAE continues to investigate other athletic equipment to determine the feasibility or necessity of establishing standards.
Consumer Product Safety Commission (CPSC)
The U.S. Consumer Product Safety Commission is charged with protecting the public from unreasonable risks of serious injury or death from more than 15,000 types of consumer products under the agency's jurisdiction. The CPSC is committed to protecting consumers and families from products that pose a fire, electrical, chemical, or mechanical hazard or can injure children. The CPSC's work to ensure the safety of consumer products contributed significantly to the 30 percent decline in the rate of deaths and injuries associated with consumer products over the past 30 years.
European Standards (EN)
CEN, the European Committee for Standardization or Comité Européen de Normalisation (founded in 1961), is a private non-profit organization whose mission is to foster the European economy in global trading, the welfare of European citizens and the environment by providing an efficient infrastructure to interested parties for the development, maintenance and distribution of coherent sets of standards and specifications. More than 60.000 technical experts as well as business federations, consumer and other societal interest organizations are involved in the CEN network that reaches over 460 million people.
Canadian Standards Association (CSA)
The Canadian Standards Association is a not-for-profit, membership-based association serving business, industry, government and consumers in Canada and the global marketplace. The association works in Canada and around the world to develop standards that address enhancing public safety and health, advancing the quality of life, helping to preserve the environment, and facilitating trade. Each year, thousands of people benefit from the training materials, workshops and seminars offered by the CSA Learning Center.